As a Myers Briggs ENFP, I am not much of a planner. Which means when it comes to meals, planning does NOT come naturally. The other day I was at Sprouts, and I saw this knobby green, beautiful Kabocha squash. I quickly googled a recipe on my phone, for which I already had most of the ingredients, and boom – I had a plan….for some meal this week. This squash is absolutely delicious. I expected it to be a touch bitter, but the flesh was sweet and creamy; a lush dark orange. Which goes to show you, a squash, along with books and people, should never be judged by its outer appearance…
Thanks to Simply Recipes for a wonderful, spoon-licking-good recipe. Here is my adaption:
Autumn Roasted Kabocha Squash Soup
Adapted from Simply Recipes
Prep time: 20 minutes
Cook time:1 hour, 30 minutes
Yield: Serves 8 to 12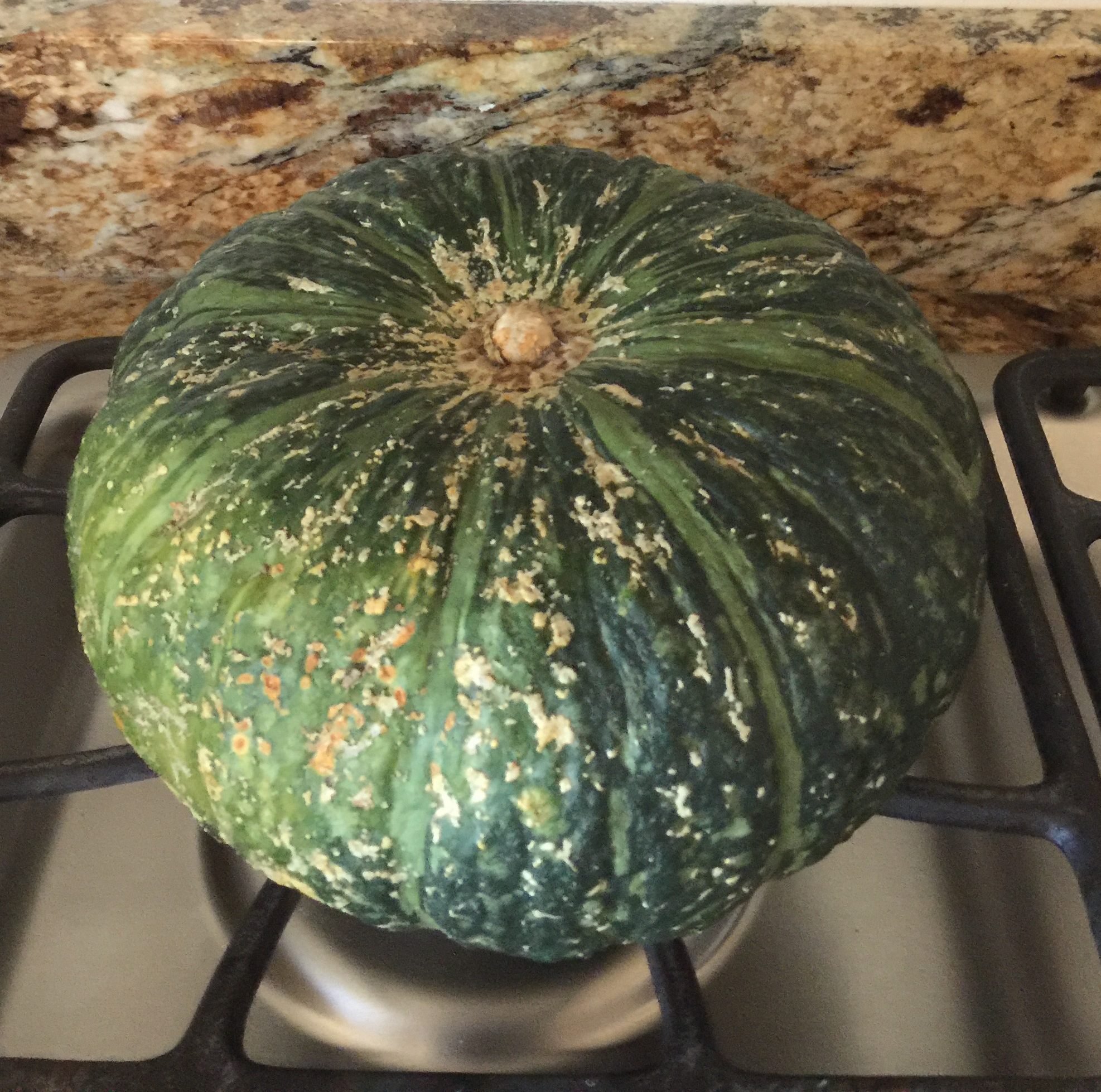 Ingredients
One large kabocha squash
2 Tbsp olive oil
Salt
3 Tablespoons olive oil
3 cups chopped onions
4 ribs of celery, sliced
2 Tablespoons jarred chopped garlic (or 6 cloves of fresh garlic, minced)
2 Tablespoons jarred grated or minced ginger, or 3-inch piece of fresh ginger root, peeled and grated
2 1/2 teaspoons ground cumin
1 teaspoon ground coriander
6 cups chicken broth
1/2 cup coconut milk (from the can)
1 Tablespoon plus 1 teaspoon kosher salt
1/2 teaspoon black pepper
Garnish with lime juice and chopped fresh cilantro
 Directions
Preheat oven to 400°F.
Cook the squash: Use a large chef's knife or cleaver to cut the kabocha squash – use caution, as the squash can be tough to cut (like butternut squash). Take a spoon and scrape out all the seeds. Place foil on a large cookie sheet, and place the squash pieces on the foil. Rub the pieces with olive oil and sprinkle with salt. Put the squash pieces skin side up on the pan. Roast for 45-60 minutes, until soft and caramelized (brown) at the edges. Remove from oven and let cool.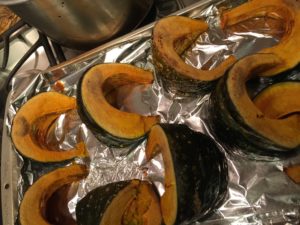 Heat olive oil on medium high heat in a large (6 quart) thick-bottomed pan. Add the onions and celery, garlic, ginger, cumin, and coriander and cook for about 10 minutes, or until the onions and celery are soft.
Once squash is cool enough to handle, remove and discard the skin (I use a spoon to scoop it off the skin). Place the roasted kabocha squash into the pot with the onions and celery mixture, along with the chicken broth, coconut milk, salt and pepper. Increase heat to high to bring the soup to a low boil, then bring the heat to low, partially cover and cook 8 to 10 minutes.
Remove from heat. Place the soup in a blender in about 3-4 separate batches, depending on how big the blender. Only fill the blender 1/3 full. Blend the soup until smooth. Be very careful with this step, as the soup is very hot!
Add more salt to taste. Sprinkle with lime juice and chopped cilantro to serve. If you are not doing Whole 30 or Paleo, a dollop of sour cream is an added delight.