The results are in!!! My husband and I, with our five-year-old daughter just finished a Whole 30 (which is 30 days without legumes, grains, milk products, or sweeteners of any kind), complete with a post Whole 30 systematic reintroduction of each food type, to see how our bodies would react.
Now, we called it "Whole 30," but in reality, we each did a variation on it. My husband still added stevia to his coffee. I still had half and half in my coffee, and occasionally honey. Our daughter still had a little honey, paleo (grain-free and milk/butter-free) chocolate chip cookies, and some pea protein powder in a smoothie. (Her main guidelines were to ban sugar, grains, and milk products.)
Our son, who is 17 months, didn't do Whole 30, although I'm sure he had less grain than usual since we were cooking and buying groceries differently.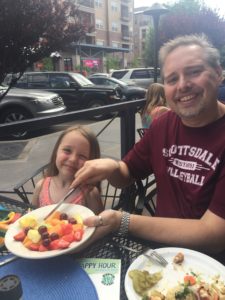 So why did we do a Whole 30?
My husband wanted to lose weight. I wanted more energy and get off sugar. Our daughter was fighting chronic stomachaches.
So we did it! My husband is a rock star in the kitchen – he is the menu planner in our family. So he got out our Whole 30 and Paleo recipe books and planned out his lunches and our dinners for each week. Huge help! I had to menu plan a few of the days (more on how I survived that in a forthcoming post).
My husband was our rock through it all. He stayed strong when I wanted to cave. (This makes no sense, because I grew up eating a very clean, no sugar diet, whereas, he did not. This should be hardwired into my brain!) He abstained from beer at every work happy hour, stayed away from Friday bagels at work, made himself turkey bacon and eggs every morning, and planned and cooked Whole 30 compliant lunches for the week.
This is my third time doing a Whole 30, and for whatever reason, it was haaarrrddd this time. I wanted popcorn and ice cream and other treats, especially when we were on a little trip. I missed having more variety in my diet. My husband wondered if it was because this time I kept half-and-half in my diet (he may have a point!)
My daughter had a few meltdowns, and Whole 30 almost became a bad word in her mind. But overall, she found some things she really enjoyed and was a trooper – making the hard choices when push came to shove. (More to come on her experience doing Whole 30).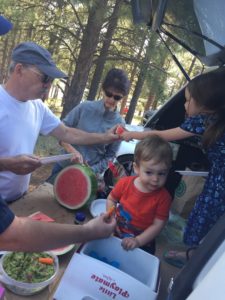 We made it through all the ups and downs and found things that felt like a treat. On our 4th of July trip, we had a tailgate picnic by the lake – with fresh cold watermelon and homemade guacamole with plantain chips. It was great and we had a blast.
So now for the good stuff – what did Whole 30 do for us?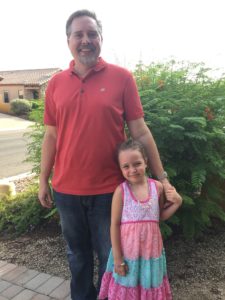 My husband: Andy lost 6 pounds. Now, this is AMAZING. My husband simply does not lose weight, even during times he is watching carbs and calories. He can go years without losing a pound, even though we really work to buy healthy foods and cook at home. But he lost six pounds in the 5 ½ weeks we were on Whole 30! He also felt like he had good energy and focus through a high-pressure time at work.
Me: I'm gonna keep it real and say that I didn't notice a big surge in my energy this time, like I have when I've done Whole 30 before. But I have some other things going on, like a newly diagnosed low thyroid. BUT I did have much better digestion and less stomachaches on Whole 30, and in general, I didn't feel sluggish. The no grain, no sugar, no milk product way of eating really helps my body function better. Also, I had NO REFINED SUGAR for over 5 weeks, and for a recovering sugar addict like me, this is fantastic.
Our daughter: Our baby girl also had better digestion and almost no stomachaches while doing Whole 30. She also didn't have the hyper highs she (and all kids have) when she had refined sugar in her diet.
So, absolutely yes and amen, Whole 30 was worth it, and it was doable for us. We really want to continue with this healthy way of eating, with more protein, fruits and vegetables, and really minimize refined foods. My goal is to keep a rhythm of healthy eating almost every day. A good healthy eating plan takes the monkey off my back, the niggling worries that I should be eating healthier, that I should be feeding my family more healthfully. It takes away the mornings of waking up with brain fog and the onslaught of regrets for eating things that made me less than my best the next day.
This doesn't mean it will be perfect. I enjoy my ice cream with the best of them (chocolate and vanilla with caramel swirl PLEASE!) But healthy eating WILL be a continued journey for us, because feeling good every day and building health for today and future years is worth every effort.