On the heels of reading "Settle for More" by Megyn Kelly, I was in the mood for a book with some elements of Washington politics. When I heard on a podcast about "The Hopefuls" by Jennifer Close, I quickly reserved it from my library.
The story is about a young married couple, Matt and Beth Kelly (ironically!), who move from New York to Washington D.C. so Matt can pursue a career in politics. Beth is not so sure she will warm up to this new state and its culture of politics. Soon enough they meet another couple close in age and aspirations, Jimmy, a White House staffer, and his wife Ash, and they become fast friends.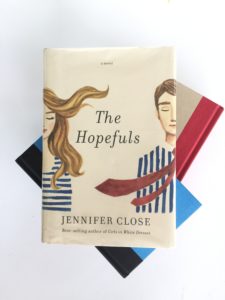 The story is told in first person narrative by Beth, from 2009 through 2014, as she observes the ups and downs of being a wanna-be politician's wife. Beth does this almost as if she's writing journal entries with small snippets of conversations and observations she's making, which serve more to amplify the personalities of the characters and the emotions they are experiencing, rather than driving any kind of plot forward. E.g., "He was driving, staring at the road as he talked about all the amazing praise he'd gotten. 'Someone said it reminded them of Obama's red state, blue state speech,' he said. 'Do you believe that?' He laughed like it was a crazy thing to say, but you could tell that he was thrilled by it, that part of him thought it was true."   Really, there's very little plot to the book, except for some breadcrumbs that lead to a somewhat predictable ending.
The characters, especially the ladies, were colorfully drawn. We had Beth, the transplanted free spirit who was along for the ride and Ash, the effervescent, organized Southern bell that played the role of a politician's wife to a tee. The male characters also had some dimension, but were not nearly as likeable. The dialogue between the characters was smart and believable.
Beth's view on parenting and children as a person without children(yet) was fun. As a mama who's been instructed by a pediatrician to get her child to eat more, this section made me laugh:
"Jonah was an only child, and Rebecca and Patrick were almost always following him around and trying to get him to eat, as though he was going to starve right there. It wasn't at all unusual to see one of them crawling on their knees after Jonah, holding a banana or a cereal bar out, saying, 'Do you want a 'nana? Take a bite of 'nana. Take a bite. Try a bite. Just one bite.' And then they'd shake their heads at each other, like they couldn't believe he wasn't eating. Being around them for more than an hour made you consider never having children, just in case there was a small chance you'd turn into them."
I was hoping for more of an inside view into Washington politics, but the book presented what my expectations of political circles would be –competition, gossip and name-dropping. Ultimately, the story was more about relationships among friends and spouses than it was about Washington politics, which largely served as a backdrop to the story of the relationships.
The tale is largely charming and funny, with some darker elements of jealousy and betrayal. It was entertaining and kept my attention – I finished the last third of it in one sitting. But some of the dialogue included some strong language, given the context. And it didn't leave me much to chew on – kind of like eating cotton candy.
My rating: 3/5 stars.