I was just watching little videos of my daughter when she was one year, and now here she is, a big girl in Kindergarten. Of course, you know what I'm going to say next. How the years have flown. One of my constant goals is to savor this season of life with my two little ones as much as I can; before I'm ten years down the road, crying and looking at pictures "when the kids were so small."
This point was driven home for me recently in a very tangible way.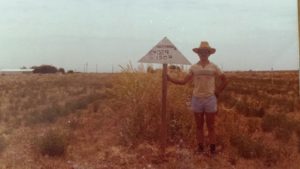 When I was about 9 years old, my parents moved to a 5-acre bare piece of land – literally nothing but dirt. It was so raw, there was no running water (the waterline had to be extended farther down the dirt road to our land), no septic. My parents built it from the ground up. Over many years, that bare acreage became an estate, lush with citrus and peach mini-orchards, a large garden, pastures for cows and goats, a chicken coop and pen, a barn my dad and brothers built.(That's my brother Tim on the little red tractor in the main photo). We called it "The Farm" and "The Ponderosa".
Twenty-nine years after that monumental move, The Ponderosa was sold. My parents wanted to downsize and it was time, but it was a sad day for all of us. So many memories were built there between me, my sister and two brothers, my mom and dad. I always loved coming home to the Ponderosa.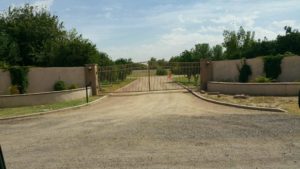 Recently, my mom had an errand that took her near the Ponderosa so she drove by and took a picture of it, which she texted to me and my sister. It made me so sentimental and I realized how much I miss it. I thought about how my dad told me shortly after it sold he thought we would be there forever, and he worked on it all those years as though we would. It was such a big part of our lives for so long; now it is a memory.
That same day my mom texted me with a picture of the Ponderosa, I saw this touching Facebook post from one of our dear friends. He kindly allowed me to share it here. He wrote:
"My mother died a couple of years ago, and I came across this picture this evening. That is my brother in the foreground and me further back. On the backside of the picture, it appears that my mom had pasted this little poem. It really touched my heart."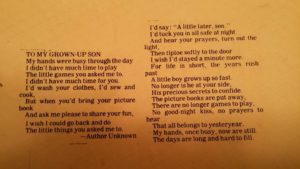 Larry's mom was an amazing, kind woman, dearly loved by her sons. Larry said, "My mom worked as a clerk in the feedmill of our little rural town, and dad was gone a lot driving his semi. I know she felt what that poem describes, but in her defense, I never felt neglected or unloved."
Here is a transcript of the poem, which really impacted this mama's heart:
TO MY GROWN-UP SON
My hands were busy through the day
I didn't have much time to play
The little games you asked me to
I didn't have much time for you
I'd wash your clothes, I'd sew and cook,
But when you'd bring your picture book
And ask me please to share your fun,
I'd say: "A little later, son."
I'd tuck you in all safe at night
And hear your prayers, turn out the light,
Then tiptoe softly to the door
I wish I'd stayed a minute more
For life is short, the years rush past
A little boy grows up so fast.
No longer is he at your side
His precious secrets to confide
The picture books are put away,
There are no longer games to play,
No good-night kiss, no prayers to hear
That all belongs to yesteryear.
My hands, once busy, now are still.
The days are long and hard to fill.
I wish I could go back and do
The little things you asked me to.
– Author Unknown
With nostalgic feelings of the farm still brimming in my heart,  I read this poem. I read how "The picture books are put away". Like the Ponderosa. Once an integral part of our lives, now it's almost strangely part of our past. I thought of all the little toys and crafts and clothes we use so actively now in this little stage and that someday, these things will be items to sort through, deciding what is too sentimental to lose and too impractical to keep.
And then I sat down and ugly cried.
Just that day (maybe that week, month?), Ellianna had asked me to do any one of dozens of little things with her, but I felt the press of things that had to get done.
The picture of that little poem is now taped to my bathroom mirror and to my refrigerator.
In the pursuit of Haven Making, I don't want my children to remember a mom who was stressed out, always pressed to get things done, or who was looking at her phone all the time. I want them to remember me being part of their lives, being willing to see life through their eyes, holding their hands and teaching them about little things, and big things and this amazing world, and about our amazing God.
Because these are the things that made The Ponderosa so dear. The memories of my family doing life together. Of my parents putting their heart and soul into molding four little people for the world. Teaching us, leading us. Living well, laughing often, and loving much. This is the essence of making home a haven.