Before I started the Whole30 eating plan, I dreamed about what my before and after pictures would look like. I took several "before" pictures in anticipation of starting Whole 30, thinking each photo looked worse than the last and how great it would contrast with my fabulous "after" picture. But time kept passing and I still wasn't ready to take that money "after" shot.
Finally, after being on the Whole 30 plan for about 5 weeks, I was ready. Here you go, my before and after:
.
.
.
.
drumroll please….
.
.
.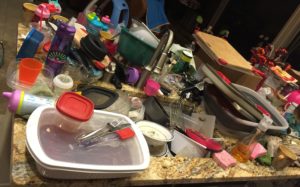 I wasn't after weight loss or how I would look in my clothes, I wanted my house to look better! 
Far too many days my energy has been stuck in 1st gear. When that happens and you have two little children, the energy goes to the children, and there's not much leftover. So the house would slide, and slide……. to my everlasting frustration. I have a lot I want to accomplish, plus I want to be able to have fun and enjoy my children without being stressed because I don't have the basics covered (like having clean laundry!).
I went on the Whole 30 plan for the full 30 days. The Whole 30 Plan includes vegetables, nuts and seeds, eggs, meat and some fruit (barring any allergies to these items). No sweeteners of any kind, grains or dairy products are part of the plan. It felt restrictive until I found some recipes to add variety.
The great thing about Whole 30 is that it is a life plan. It eliminates foods that are common irritants to our biology – corn, gluten and dairy products – and then once the 30 days are up, you gradually try these things to see if you are sensitive to them. I know that dairy causes stomach issues for me, and I just generally feel better when I'm off dairy and grains.
After about three weeks of doing the Whole 30 plan, I started to have more energy. I've been on the plan now for close to six weeks, and the difference is like night and day. It's like living a different life. I used to feel drained all the time, and many times I would feel drowsy and exhausted. Today, I heard my baby upstairs and I ran up the stairs! I wasn't even thinking about it till it struck me how I would have never run up the stairs as many as three weeks ago. Beyond energy, my moods have improved (another productivity booster) and I no longer have chronic stomachaches.
All this adds up to giving me the energy to have and enjoy a cleaner and tidier home, and to do the things that will help make my home a haven. It is high motivation to know that I will not be able to achieve this and other dreams if I don't stay the course with taking care of my health.
This is my story, or a piece of it. Not every day is perfect, and I am not always perfect in taking care of myself. Every journey has hills and valleys, but as I continue on this path, my goals will come to fruition.
Tomorrow I will talk about how I make this way of eating do-able and workable for me so I can maintain it long-term. I'll also talk about how it has helped me with my ongoing battle with emotional eating.